WELCOME TO
ANCHORAGE BARN
Anchorage Barn Equine Clinic is a long established equine veterinary practice, which provides a first opinion service and second opinion or referral services to veterinary colleagues.
The practice moved into its new purpose built clinic in August 2000 and is located in the village of East Rudham between Fakenham and King's Lynn. We cover most of Norfolk and parts of Cambridgeshire and Lincolnshire.
We specialise in the veterinary care and treatment of horses, ponies and donkeys using our dedicated and knowledgeable team.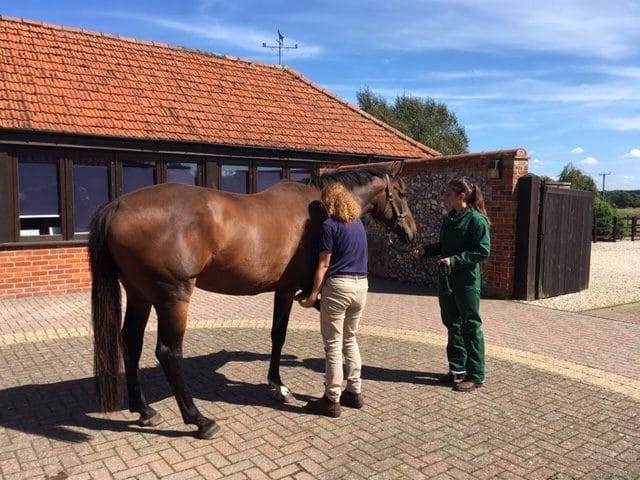 FULLY PADDED BOX
This area is used to safely anaesthetise and treat patients requiring procedures which cannot be performed under standing sedation.
LARGE HEATED EXAMINATION AREA
Our examination area is complete with stocks and heating and is fully enclosed, allowing a safe, comfortable and private experience.
ISOLATION BOX
Our isolation box is located away from the main stabling facility and is used under strict protocols if a patient is, or is suspected to be infectious.
AMERICAN BARN STABLING
The barn contains a mare and foal box as well as three other internal stables, all of which have a large opening window to allow generous air flow and mental stimulation.
TROT UP AND SCHOOLING SURFACE
Lameness investigations are regularly carried out at the clinic with the benefit of our trotting up and lunge area on a hard surface, our indoor examination area and grass manège. To accompany this, we have our own Ultrasound and Digital X-ray facilities as well as the ability to refer for MRI or bone scan if required.
LOADING RAMP
Within our carpark we have a loading ramp to assist with loading young, tricky or injured horses.
PORTABLE EQUINE WEIGH SCALES
Our portable scales are used regularly both at the clinic and on visits not only for routine weight checks but for patients on weight loss programmes and for accurate medication dosing, such as for worming.
AUTOMATIC HORSE WALKER
The automatic horse walker is located conveniently by the American barn and is very useful for controlled exercise for inpatients.
INDIVIDUAL GRASS TURNOUT PADDOCKS
The turnout paddocks are safely fenced with Fieldguard Fence Tape with individual access points. Our paddocks are poo picked at least once daily and are part of a field maintenance regime whereby they are sprayed, topped and harrowed to keep the grazing in good order.
INTENSIVE CARE BOX WITH WEBCAM
Our intensive care box has fluid therapy facilities, as well as a heat lamp and soft flooring. The webcam allows us to monitor the patient 24/7 from any location.
ULTRASONOGRAPHY
We have a range of ultrasound equipment, some of which is portable allowing us to conduct this diagnostic technique away from the clinic. We commonly use ultrasonography to examine swellings, joints, tendons and ligaments as well as for gynaecological and cardiology examinations.
DIGITAL X-RAY
Radiography is a common diagnostic technique preferably used at the clinic. We have a portable digital x-ray machine allowing us the freedom to conduct radiography on visits when it is unsafe to travel to the clinic.
ARTIFICIAL INSEMINATION CENTRE
We are a BEVA approved artificial insemination (AI) centre. We are able to offer AI using fresh, chilled or frozen semen. Owing to our American barn stabling and individual turnout paddocks we are able to offer clients the opportunity for their mare to stay with us during the AI process.
DENTISTRY
We perform equine dentistry on a daily basis either at the clinic or out on visits. All of our vets are proficient in carrying out dentistry. We can offer both manual rasping techniques as well as motorized techniques and sedation if required.
ENDOSCOPY AND VIDEO ENDOSCOPY
We use endoscopy to visualise internal regions of the horse such as the upper respiratory system, urinary tract and the oral cavity. The video endoscope allows us to see the images on a large screen. The endoscope is portable, allowing it to be used on visits if required.
LABORATORY
We have an onsite blood analyser allowing us to run samples in house and provide results promptly. Our vets also carry portable blood machines for a specific blood test to check for inflammation. We offer a very popular in house worm egg count service supported with all year round help and advice as well as urine analysis, general microscopy and semen analysis.
PRE-PURCHASE EXAMINATIONS
Pre-purchase examinations (vettings) are offered to both clients and non-clients either at the clinic or on a visit (distance dependent).
REMEDIAL FARRIERY
We work closely with local farriers to assist in all round care of our equine patients. We can offer diagnostic techniques such as radiography to be performed with your farrier present to assist with the foot balance and shoeing procedure both pre and post farriery sessions. We also have the ability to refer your horse to specialised farriers if required.
24 HOUR EMERGENCY SERVICE
We offer a 24 hour 7 day a week emergency service to our registered clients, supported solely by our own veterinary team.